Summertime: Saturday Night on the Patio

Music is from 6:30-8:30 p.m. (Dinner 5:30-8:30). Burgers, hot dogs, Coyote brats, ribs, and chicken sandwiches on the grill; along with salads, smoked brisket and BBQ sandwiches, exquisite desserts and all the great Coyote's coffees and specialty drinks that you love, including beer, wine and margaritas!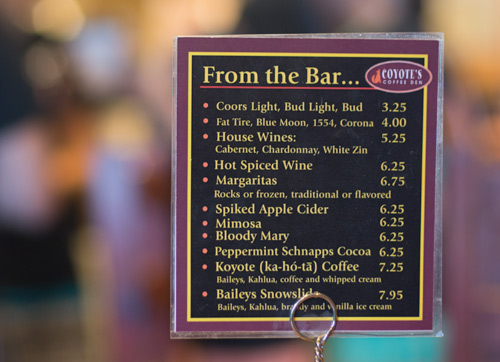 June 2
Joe & Katie Uveges
Clearly rooted in Folk, but Joe can take his audience on a well-rounded musical journey. Joined by Katie Uveges on fiddle and beautiful vocals. Great music and entertainment- it's one of Coyote's favorite nights!
June 9
Kamerzill & McCarter
Ricky and Glenn have been playing together for over two decades and their performance shows it! They play a great mix of blues and rock favorites you'll enjoy hearing again. You may have seen them jamming with Deja Blues, but you'll love seeing them together.
June 16
Willson & McKee
Blazing Celtic instrumentals, warm harmony vocals, and a lot of laughter complete the Willson & McKee experience! Rocky Mountain Celtic…what Celtic becomes when it settles comfortably in the west!
June 23
BJ Estares
Blues with a touch of classic Rock. Solid vocals and tight jamming! You'll hear some first-rate original tunes along with some blues classics. These blues won't bring you down!
June 30
Phil Volan & Joleen Bell
Phil and Joleen play beautifully crafted music for mainly fingerstyle guitar and vocals with beautiful tight harmonies. Phil has performed with or opened for such well-known artists as Suzi Boggus, Phil Keaggy, Chuck Pyle, David Bromberg, John Stewart, and John Gorka. Joleen Bell, along with her angelic voice brings a highly developed fingerstyle guitar skill to the duo--often with a Celtic feel on many of her original songs. Joleen plays several instruments including banjo and lap dulcimer.
July 7
Bruce Hayes
Bruce plays Rhythm & self-described Celtgrass music, a fusion of musical styles that combines acoustic and electric instrumentation with elements of Rock, Bluegrass, Celtic, and R&B music. Collaborating with The String Cheese Incident and Acoustic Junction, Hayes helped define the acoustic jam band sound. He continues that tradition performing original songs and arrangements on Mandolin, Guitar, Dobro, foot board and his latest creation, the Stratobassto. On stage Hayes' presence is electrifying. He taps his feet on an amplified floor board, slaps accents on his guitar and cheeks, wails on the harmonica and sings charismatically.
July 14
The Joe Booth Band
The band's playlist includes a variety of originals and covers from artists such as Johnny Cash, Bob Dylan, the Rolling Stones, Hank Williams, Bo Diddley, Ray Charles, Eddie Cochran, Tom Waits, plus some fiddle tunes in the mix- fans describe them good-time, honky-tonk Americana!
July 21 *Note: Schedule Change
Lobo & Sheryl Loggins
Former Nashville Recording Artist Lobo Loggins and his wife, Sheryl Loggins who has the voice of an Angel make up the Lobo and Sheryl Show. From well written originals to some classic country covers, even some good-old Texas Blues!