Summertime: Saturday Night on the Patio

Music is from 6:30-8:30 p.m. (Dinner 5:30-8:30). Burgers, hot dogs, Coyote brats, ribs, and chicken sandwiches on the grill; along with salads, smoked brisket and BBQ sandwiches, exquisite desserts and all the great Coyote's coffees and specialty drinks that you love, including beer, wine and margaritas!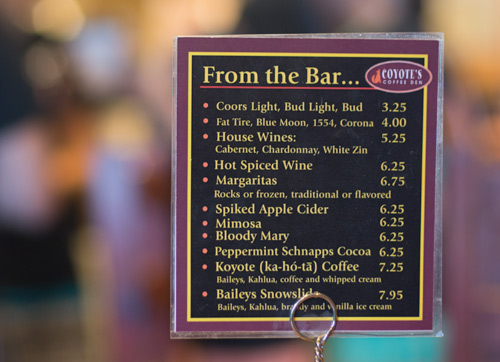 June 10
Joe Booth & Doug Faulker
Joe Booth has been touring nationwide since 1998 in the rockabilly band "The High Rollers". Endorsed by Gretsch Guitars and featured on CMT's "Chopper Build-Off", Joe has played shows with bands such as Reverend Horton Heat, Dick Dale, and the Legendary Shack Shakers. Joining Joe is Doug Fulker, also a Colorado native. He began performing with bluegrass and country bands in the 70's before moving to AZ to play with Shri Blues Band who has toured Europe since 1996. Doug brings tasteful twang guitar, slide guitar and fiddle to Joe's songs. So, if you like Johnny Cash, you are sure to dig the show.
June 17
BJ Estares & Route 61
Blues with a touch of classic Rock. Solid vocals and tight jamming! You'll hear some excellent original tunes along with some blues classics. These blues won't bring you down!
June 24
Ronnie Shellist and Moses Walker
Ronnie's blues harmonica is nothing short of incredible! Ronnie's live performances include opening for such greats as BB King, Charlie Musselwhite, and the Neville Brothers. Moses' music has been described as a mixture of blues, folk & jazz. Influences include Tom Waits and Leon Redbone among others.
July 1
Rare Ould Times
A collection of musical friends who matured globally and now live in the Colorado Springs area. This group shares a deep love of traditional Irish and Scottish music, both vocal and instrumental, featuring strong harmonies and fleet fingers.
July 8
Bruce Hayes
Bruce plays Rhythm and Celtgrass music, a fusion of musical styles that combines acoustic and electric instrumentation with elements of Rock, Bluegrass, Celtic and R&B music. Collaborating with The String Cheese Incident and Acoustic Junction, Hayes helped define the acoustic jam band sound He continues this tradition performing original songs and arrangements on Mandolin, Guitar, Dobro, and foot board.
July 15
Shannon Carr and Jim Marsh
Shannon Carr brings hot bluegrass guitar licks with perfect pitch vocals and Jim Marsh adds blazing banjo in an evening of smokin' hot bluegrass. One of last year's most talked about shows.
July 22
Fireweed
Pueblo's own favorite bluegrass band
for a reason. This is a night you won't want to miss; this is a full band of bluegrass aficionados!
July 29
Lobo & Sheryl
Former Nashville Recording Artist Lobo Loggins and his sweet wife, Sheryl Loggins who has the voice of an Angel make up the Lobo and Sheryl Show. From well written originals to some classic country covers, this is comfort music!
August 5
Joe & Katie Uveges
Clearly rooted in Folk, but Joe can take his audience on a well-rounded musical journey. Joined by Katie Uveges on fiddle and vocals, it's one of Coyote's favorite nights!